March 2007
Gun Training
For me , this is by far and away the worst aspect of training . I have never been a gun fan and past experiences have been limited to one afternoon's clay pigeon shooting and a couple of paintball games more than a decade ago . The idea of having to use a real gun on a live animal fills me with abject fear. The fact of the matter is that I have to overcome this and see the gun as a protector. I, like many people, see Polar Bears as special creatures who are struggling to survive due to global warming and the resultant melting of the sea ice but whilst out there I do have to treat them as dangerous predators. The Arctic is their home and we are walking over their territory but we must be ready to protect ourselves if it comes to it. The banging of pots and pans, use of flares and whistles and warning shots may not be enough to scare the predatory ones off. We are carrying a Remington Pump action shot gun which means nothing to me but as the first user of the day on our training session , I was literally blown away by the weight, the deafening blast of the bang and the force of which I was flung backwards. We practised with both the Remington and with clay pigeons. Thom turned out to be a great shot. In teams we allocate a 'gun person' and so Thom is ours. This doesn't mean that I won't have to use it but it does decrease the likelihood. More training will be provided out in the Arctic next month.




Weight Gain Progress
Last weigh in at work with Pav took place on my last afternoon at work. I still have 6 weeks to go but the competition with Pav was over and Pav won by 1lb !! My March weight was 9 stone 10lbs , a total weight gain of 3lbs since the competiion started but half a stone since I started the training program. Should be able to add a few more before April 15th !
Mountain Madness
It was a mad last week at work before I started my "career break" . I felt I was leaving at a bad time but at least the team had hit the deadline albeit at 7pm on the Friday evening I left ! 6 months off , Yippee !! Well 6 months off going to work at John Lewis at least. It felt like I had a mountain of admin , physical and mental training to do in the next few weeks though. I was temporarily re-locating to the Lake District where Mum and Dad live. 6 weeks of home cooking (to help the fattening up !) and intense physical training to help me on my way to peak peformance. Well that was the idea anyway...



Safely holding the clay pigeon gun
Lady of Leisure
Tyre pulling is part of the traditional training for those hauling sledges long distances in the polar regions. By simulating the stresses involved , it helps muscle memory and increases strength. For much of the training I have had to venture out alone so armed with my tyre on the hills , I seem to have been an object of interest !! I've had people shout out "Oi Miss , you've forgotten the rest of yer car ! " . Some look strangely at me and others at least ask the purpose of this madness. On a few occasions I've recruited the help of willing friends and family to accompany me on these trips so as to lessen the monotony. So thanks to Mum , Dad, Cathy K, Sue, Silvia, Hu & Karen, Gary & Julie, Maggie, Ro and Julian for acompanying me on training trips. Spending so much time cocooning myself inside my own head for hours on end can send one a little doo-lally ! The ipod helps but I do find myself singing out loud , walking in time to the music with occasional leg flips to the side a la Morecambe and Wise !! Just hoping the madness is temporary !!



Team Name and Tactics
Now we have a team , the first thing to do was to name ourselves. I recruited the help of my London friends at my leaving bash. Hundreds of suggestions were made, my favourites being "The Incredible Pulks " , "On the Pull" and "3 of a kind". Thom provided a few extras but in the end we the team vote went for "Team Polarity". Polarity has several meanings one is "...being pulled towards a magnetic point " and a second meaning "the presence of two opposing forces" We are taking the first definition ! Since Thom , Gary and I live in different parts of the country we have had to communicate by e-mail, conference calls and texts. There is so much to think about. Gary's advice has been invaluable and Thom has been beavering away at spreadsheet calculations for weight, calories and navigation. We're meeting two weekends in succession in early April to train and talk team tactics.
Tyre pulling
in the Lakes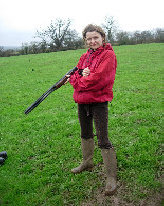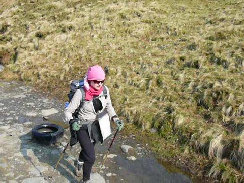 Gabrielle Finn - Polar Challenge 2007