April 2007
1 week to go !
This will be my last entry before I depart for the Arctic . We fly from Heathrow to Ottowa on Sunday 15th April where we spend one night. Resolute in Northernest Canada is our next stop where we will spend 3 days, in the luxury of a hotel, attending lectures, practising polar bear drills, setting up tents, preparing our food , adjusting our kit and acclimatising to the cold. We have been warned about "Arctic Shock" , a condition often acquired after landing in Resolute where the body and mind going into a mild state of shock due to the dramatic change in temperature and environment. The weather in England has been unseasonably warm so the shock may be more marked !

After training we practise our skills on a 3 day mini-expedition which allows us to test our kit , develop routines and tent admin, practise our navigation and generally get used to the idea of camping out in the bloody cold !

One more night of comfort in the hotel before we then set off for the 65 mile (104km) walk to the start line of the race. This should take around 4/5 days. All teams and staff will be walking in together . This should build our confidence on the ice before we are left to fend for ourselves . The Race is due to start on the 27th April but could be a day or two later depending on weather conditions and how we fared in the walk-in.











Gabrielle Finn - Polar Challenge 2007
Feelings
I am feeling a huge sense of anticipation and excitement but also somewhat apprehensive. I have spent months preparing for this physically and mentally. It's been with an all-consuming passion and commitment and many other aspects of my life have had to take a back seat. I have prepared as well as I could have and am as determined to make it a success which hopefully means reaching the Magnetic North Pole. I do have occasional moments of worry eg will I be able to cope with the extreme cold , how will my mind react to white-outs , will my body be up for 14 hours a day of pulling a sledge, will there be any polar bears lurking round the ice rubble but for the mostpart I'm keeping very positive and excited.










Goodbyes and Thank-you's
Thom and Gary came up to stay with me in the Lakes. This was the first time we had been out training as a team. We managed a couple of medium sized walks . The weather in the Lakes was picture perfect - not great training weather but it gave us the chance to talk about tactics, equipment, food and actually get to know each other a little better. Its amazing how much detail you must go into.

Food we are trying to calculate scientifically as if it were fuel. Based on my body mass index and the energy I intend to expend I should be eating in the region of 7000-8000 calories a day . The average consumption for a female for a day is around 2000 calories so I have to eat 4 times as much as on a normal day in the office !! We split that into breakfast, all day snacks (won't be stopping for lunch !!) and dinner and add to that the correct proportions of carbs, protein and fat and it could get quite complicated. A typical day would consist of

Breakfast : porridge with tons of cocoa powder , sugar and dried milk powder and hot chocolate
Day packs: equivalent of 4 chocolate bars , half a pound of cheese , half a pound of nuts and half a pound of jelly babies
Evening meal: Freeze dried meal , noodles, soup , hot chocolate and any leftovers from day pack

We have been given charts with latitude and longitude. From this we must decide the best route. Gary's first hand experience of last year's route and his memory of the potential pitfalls has come in very handy indeed.

Kit list - I thought the kit we were issued would be more than enough but we are slipping in a surprising number of extra kit items eg tent booties, extra insulation layer, ipod, solar charger, washing lines etc. We also have had to perform some kit alterations. There is no great market for Arctic kit so we have had to improvise where possible eg sewing nose masks onto goggles and elastic onto sweat bands to hold gloves in place.

We met again the following weekend and practised putting up and taking down the tents, taking the stove apart and re-building it, talked about roles and responsibilities, sleeping arrangements (I get to sleep in the middle - at least it will be warmer !), more food, kit and navigation talk. Gary organised a past competitor, Jo, to come round and answer any questions from their experience, very useful for me from a female perspective. Of course the she-wee will come in handy (a contraption for allowing peeing without baring all to the icy Arctic winds !!)














My parents, my nephew Alex and my aunty Maggie waved me off from Penrith station. My physical training was over. I felt a tad emotional as despite the fact I'm returning to UK in a few weeks, it had been great to spend time with my folks. I was spoilt rotten whilst I was there. Sandwiches , snacks and hot drinks were always prepared for my days on hills by Mum. Dad often had gourmet 3 course dinners ready for me on the table on my return and clean clothes were always magically available. Friends who dropped by were also given the 5-star treatment at Edenhouse. So thanks to my wonderful Mum and Dad for all your help and support. Thanks too to Maggie , Mum , Corinne and Taylors of Penrith who helped out with sewing for identification tags and kit adjustments !











Last minute Prep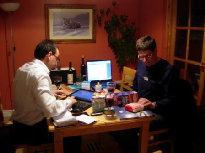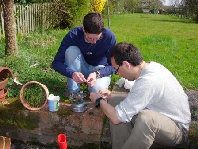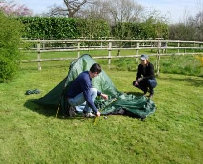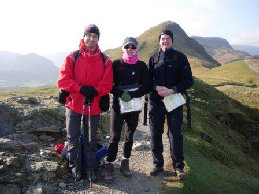 Thom & Gary working on spreadsheets
Thom & Gary taking stove apart
Gary & me putting up tent
Team Polarity in Lakes