June 2007 - Post Race Report Part 1/6

Gabrielle Finn - Polar Challenge 2007
Success (by the skin of my teeth !!)
I dragged my weary body the last few yards mustering all the energy I had so we could cross the finish line together as a team . Tears of relief welled up in my eyes , I raised a glimmer of a smile . It was all over.


…back in August last year when I signed up for and PAID a deposit for this damned Polar Challenge ? - "That an averagely fit fun runner and occasional adventure-holiday participant could take on board 350 mile sledge-hauling for over 3 weeks in the Arctic to one of the Poles ????" . Oh how naďve could I have been !!!!

These were my thoughts on only the second training day near Resolute Bay. I was out of my depth. I was extremely close to calling it off but how could I face family, friends and colleagues and worst of all myself having given up before I'd even began the walk to the start line ??!! Simple pride and knowing I'd never forgive myself kept me going.

" WHAT on earth was I thinking ?? "
The Diaries were Edited !!
I know many followed the "Diaries" on the Polar Challenge web-site and I've received mixed feed-back about these entries. As communications person, I had to dictate the words daily via satellite phone at 7.10 pm precisely when incidentally we were always on the move and not in the comfort of the tent ! Assembling the phone was not a simple task in the cold . The battery , held in my thermal long sleeve top and accessed by unzipping outer layers of clothing , had to be inserted correctly and secured. By the time I dialled the number, got connected , dictated the co-ordinates for current and predicted positions my fingers were becoming uncomfortably numb. My aim thererore was to communicate the essentials as quickly as possible whilst trying to provide an incite into our surroundings and state of mind.

On my return to civilisation however , I took a look at the diary entries and realised to my utter dismay that they had been edited down , sometimes severely , by cutting out or reducing the impact of the more dramatic events of the day. This was of course to avoid frantic parents or spouses from contacting the head office and from a more commercial standpoint not to deter future competitors from signing up for the Challenge !!
Objective
I was thinking of recounting my tales by telephone , e-mail and in the pub etc but I had quite a few requests for a "post-race report" and it did seem to make sense to wrap up my web-site with the "happy " ending. My aim here is to give an honest , hopefully objective account of what really happened out in the Arctic within the constraints of decency (think toilet habits) , the exclusion of profanities (of which there were many !! ) and the over-critiquing of team-mates (they were under stress too you know ). If however you would like to hear the decency-free account , then invites for dinner or to pub for a pint or 3 are very welcome and I will no doubt loosen my tongue !! I have photos but know how people often feel about other people's holiday snaps . I can assure you that this was no holiday and shall not be going back to this Pole or any other for that matter !! So let me know if you really are into photos of whiteouts (and the odd polar bear ) and I'll bring round a photo cd when you invite me out !!
Journey to Resolute
Spirits were high when we left Ottowa and as we landed in the first Arctic outpost , the excitement was tangible. The journey to Resolute was long and convoluted. (Ottowa-Iqualuit-Cyde River-Nansivik-Resolute) . Those of you who know my fear of flying will appreciate my anxiety at the thought of 8 take off/landings in one day !! Some of us naively exited the plane at Clyde River without proper clothing provision (the sun was shining !) Within 3 minutes , we realised this was no Alpine ski resort and walked briskly to the airport building ! On arrival at Resolute we were whisked away to the best "hotel" in town, a strange hostel-like residence with stuffed Polar Bears and Arctic Foxes positioned in the main lecture room.
Top Gear / Top Secret
We had heard through many grapevines that we would be accompanied by the Top Gear crew which of course included Richard Hammond, Jeremy Clarkson and James May. In our training week in Austria , I had become friendly with Nigel ,the Director and Grant the camera man who were learning to cross country ski with the rest of us. We were encouraged to keep the Top Gear involvement low profile. The idea was that Jeremy and James would be racing in a 4 wheel drive Toyota to the Magnetic North Pole against Richard who would be Dog-Sledding there. I guess a 4 wheel drive is the antithesis in environmental terms of what the Arctic is currently experiencing. We too were contributing to global warming by flying there ! My defence is that for a month by only walking and ski-ing , we left no carbon footprint whatsoever. Richard had his photo taken with me. Jeremy was very friendly and of course very witty. Standing outside , smoking his fag , he said to me " If I'm still in this place next week , I'm going to commit suicide !! " . Look out for the Top Gear programs at end of July on , BBC2 – we are not on it but perhaps it'll give an insight into the conditions we experienced.
Preparing for the Cold
I had it in mind that the real hard work would not begin until the race had started or at least until the walk to the start line but I couldn't have been more wrong. From the first day in Resolute we were on a tight programme of lecture , practical training, food preparation and kit preparation. Ady, (an ex- marine known as Sergeant Ady from those reading the diaries), Matty (a very experienced Polar adventurer) and Gary B an ex-commando and ex-participant were our main trainers . They expected absolute punctuality, no excuses. The lectures were thorough and re-capped on much of what we had learned in Austria and more besides eg hypothermia and frost bite avoidance training, hypothermia and frost bite treatment, route planning, gun training, polar bear drills, photography, how to put on skis, adjust skis, tent erection, tent packing, beacon and satellite phone usage, navigation, tent admin …. and so it went on . Often we would have evening lectures and if not then we would be preparing kit eg sewing fur onto hood , sewing nose mask onto goggles, sewing logos onto clothes or preparing food bags. We needed 27 dinner bags , 27 breakfast bags, 27 * 3 savoury snack packs and 27 * 3 sweet packs . (27 accounted for 3 training days, 4 days walk to start , max of 17 days racing and 3 emergency packs) . It seemed that there was no end to this preparation. I desperately wanted to call home and talk to Mum and Dad but by the time I had any free time (at bed time) it was too late due to the time difference.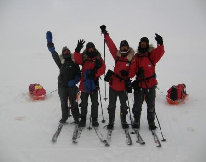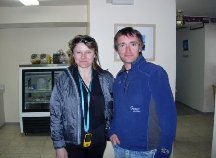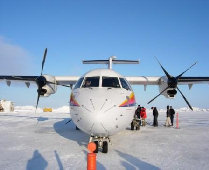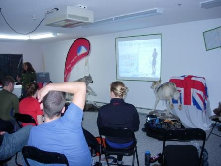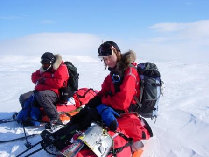 Triumphant at the finish
Typical position for making satellite call
Arriving in our first Arctic outpost
Me and the "Hammy" from Top Gear
Attending lectures in Resolute